ASPINAL OF LONDON LEATHER & TRAVEL
View our selection of Work Bags, Travel Accessories & more.
ASPINAL OF LONDON ACCESSORIES
View our selection of Keyrings, Desk Accessories & more.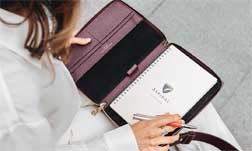 Aspinal of London Stationery & Refills
View our selection of Notebooks & Stationery.
Aspinal of London
Aspinal of London was founded in 2000 by the head chairman Iain Burton. The brand has grown year after year with now 24 stores in the UK alone and a client base that crosses the globe, the luxury leather products are ideal for work, travel, gifts, and everyday essentials. Originally the brand specialised entirely on providing luxury leather travel accessories, it has now turned its attention towards providing everyday leather essentials for both men and women.
When designing new products, Aspinal of London keep their customer feedback in mind, and this means that their bags, purses, and luxury leather accessories are practical as well as stylish. Many of their bags come with detachable and adjustable straps in order to ensure that the person wearing them can do so comfortably, and to suit their preference. Aspinal of London's product materials are carefully sourced from around the world, by talented designers and Iain Burton - the owner of the company - in order to obtain the highest possible quality.
Aspinal of London prides themselves on creating affordable quality for real people. Their products span across a wide price range, ensuring that you can try a taste of Aspinal's quality - however much you are looking to spend.
Aspinal of London at Pen Sense
Pen Sense stock some of Aspinal of London's finest lines of office and leisure accessories. Each item is crafted from the finest leather, stitched by hand and finished with the brand's signature of authenticity. With a wide range of colours and finishes to choose from you are spoilt for choice. So no matter what you are looking for, you're sure to find it at Pen Sense.
Aspinal of London has been creating beautifully crafted leather goods for many years. Here at Pen Sense, we have a large variety of Aspinal of London stock for you to choose from, including desk accessories, notebooks & organisers, card holders and many more.
Aspinal of London Personalisation Service
At Pen Sense, we offer a gift wrap service that ensures all of your special gifts are presented beautifully to their intended recipient. For a minor £4 charge, we will gift wrap your item in either silver or lilac paper, card and bow. At Christmas time we also offer seasonal gift wrapping options for the festive feel. All Aspinal items are presented inside stunning Aspinal of London presentation boxes, but to make these extra special you may wish to have a silver or gold plaque engraved with a personalised message.
Aspinal of London Corporate Gifting
Aspinal of London products not only make excellent gifts for family and friends but are also fantastic as corporate gestures. Our in house engraving staff are able to engrave a vast array of messages and testimonials onto your items where possible, they can even engrave your company logo. Check out our engraving gallery for some examples of our biggest corporate clients asked for.
Pen Sense Shop
Here at Pen Sense, Mr Wheeler and his team are dedicated to giving you the best experience every time you shop with us. He does his best to stock as much Aspinal of London items as possible, but if for any reason we don't have a specific item you are looking for, our staff will do their best to help. Our principles and dedication to our clients are of the utmost importance.
We are an Official Aspinal of London Stockist in England. Our store is situated in Loughborough, Leicestershire, and features a huge array of leather, jewellery, accessories and more. We would love for you to come and visit, we are open 6 days a week, Monday to Friday 9 - 5:30 pm and Saturday 9:30 - 5 pm. You may call 01509 266320 or contact us by email.