WRITING INSTRUMENTS
View our selection of writing instruments.
LEATHER & TRAVEL
View our wide selection of leather and gifts.
ACCESSORIES
View our collection of different accessories.
Desk Accessories
View our selection of Desk Accessories, Electronics & more.
REFILLS & STATIONERY
View our Selection of Ballpoint, Rollerball, Fountain Pen Refills & more.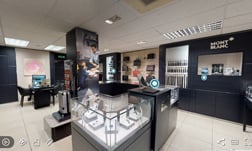 VIRTUAL TOUR
Take a 360° virtual tour around our Montblanc Boutique & Store.