Lexon Accessories
View our selection of Desk Accessories, Keyrings & more.
Lexon Writing Instruments
View our selection of Ballpoint, Rollerball Pens & more.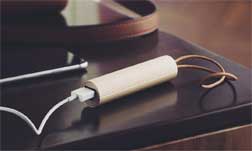 Lexon LEATHER & TRAVEL
View our selection of Travel Accessories & more.
Lexon
Founded by René Adda in 1991, Lexon believes that "design is life", and as such seeks to craft innovative but practical accessories for everyday life. With nearly three decades of achievements to their name, Lexon has continued to work beside recognisable award-winning designers from across the world, including:
Marc Berthier - French designer and creator of the Tykho collection
Adrian & Jeremy Wright - British designers and creators of the FLIP collection
Claudio Gatto - Italian designer who has worked with Saint Laurent and The Louvre
Pauline Deltour - French designers and creator of the Fine collection
Héctor Serrano - Spanish designer and winner of Red Dot Design Award in 2016
As innovators, Lexon's various collections combine attractive and colourful design with functionality and have been recognised with over 150 international design awards. The success of the brand can be noted in their frequent inclusion within editorial magazines, with a presence in around 600 editorials per year. The focus placed on the individual designer at Lexon can be seen in their collections, with each reflecting the individual character and cultural background of the designer. As such, the stylistic perspectives of French, Japanese, and Catalan upbringings come to form influence in design, as do the perspectives of more local British designers among others. The conceptual success of the brand and their approaches has resulted in examples of work being put on display in museums of contemporary art and design, as befits their position in the world of contemporary design. 
Lexon at Pen Sense
We are always excited to stock and sell Lexon products, with a select collection from some of their most loved and iconic lines. With products ranging from travel accessories to writing instruments, we offer Free UK Delivery on orders over £10, and Free Next Day Delivery on orders over £100, with gift wrapping options also available. Alongside our website, Lexon products can also be purchased from our high street store, located within Wheelers Luxury Gifts in Loughborough, Leicestershire. Please do not hesitate to contact the team on 01509 266 320, who will be happy to address any queries you may have about the products on offer. Alternatively, you can also contact the team by email.
Opening Hours
Monday to Friday (09:00-17:30)
Saturday (09:30-17:00)
Within our collection, we are proud to stock items such as fashionable calculators, pens, umbrellas, and power banks.
Lexon Personalisation Service
With state of the art engraving equipment, we are able to engrave select Lexon products as per your request. Please note, not all Lexon products can be personalised, so please contact us if you have any questions.
Is your Lexon present a gift? Complete your purchase by adding on our £4 gift wrapping service and have it professionally gift wrapped. We also offer free UK delivery and free UK next day delivery on all items over £100.