Moleskine Leather & Travel
View our selection of backpacks
Moleskine Stationery
View our collection of Planners & Notebooks.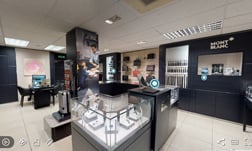 VIRTUAL TOUR
Take a 360° virtual tour around our Montblanc Boutique & Store.
Moleskine
Created in 1997, Moleskine's aim was to put life back into notebooks. For centuries, notebooks have been used by thinkers and artists like Pablo Picasso, Bruce Chatwin, Vincent van Gogh and Ernest Hemingway.
Moleskine is most known for its large collection of notebooks, bags, wallets, travel accessories and writing tools. With Moleskine products, they want to keep the owner connected to a heritage in art, literature and cultural and geographical exploration. Moleskine is now a global brand operating in a number of different countries including America, Asia, Shanghai and Singapore.
In today's world, environmental sustainability is so important and Moleskine strives to help limit the impact. In order to do this, all Moleskine notebooks are made with environmentally-friendly acid-free paper, they create reusable packaging; many of their paperband B-sides are printed with useful tools, whilst their wallet packaging can be reused as a photo frame.
Moleskine at Pen Sense
At Pen Sense, our Moleskine collection is continuously growing. So far, we have a large collection of their basic notebooks, their limited edition notebooks and their backpacks. Due to their limited waste policy, Moleskine products come with little packaging for environmental sustainability.
Moleskine Personalisation Service
A limited number of our Moleskine notebooks can be personalised. Some of the plain basic notebooks can be embossed by our personalisation professionals. Complete your Moleskine purchase by adding our £4 gift wrapping service. All items qualify for free UK delivery and orders £100 or over qualify for free UK next day delivery. Please contact us if you have any questions. Pen Sense offers gift vouchers that can be purchased online.