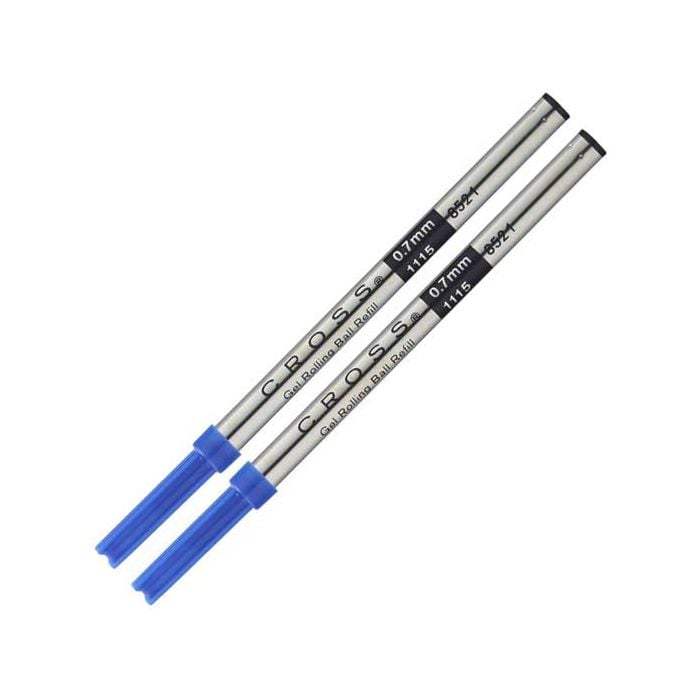 This pack of two rollerball refills from Cross have been designed for their rollerball pens. These blue refills have a medium-sized nib and feature exclusive gel ink formula which flows smoothly for a flawless writing experience. The gel ink refills are also available in black, red and purple.
Suitable for: Apogee, ATX, Century II and Townsend rollerball pens.
Product Details:
Writing system: Rollerball pen.
Colour: Blue.
Nib Size: Medium.
Suitable for: Apogee, ATX, Century II and Townsend ballpoints.
Personalisation Options in Basket:
Gift wrap and hand-written tag.
Additional Information
Stock Number: SN155
Weight: 0 kg
Product Types: Refill
Pack Size: Pack of 2
SHIPPING INFORMATION
All orders under £20 will carry a £2 delivery charge for UK addresses.
Free UK delivery on orders above £20.
Orders over £100 will be delivered free with next working day delivery to a UK address if placed before 3pm on a working day.
Orders under £100 can be delivered next working day to a UK address with an additional cost of £6.
Saturday delivery to a UK address costs £10 (£20 for champagne).
Delivery to a country within the EU from £25.
Delivery to the rest of the World from £40.
Why not have this gift personalised and make your chosen gift unique and rememberable for someone special. All our engraving is done in-house so we can offer you a very fast turnaround of order. We will engrave your request within 24 hours of receiving your order (excluding weekends and bank holidays). If it is a very urgent engraving request then please email or phone and we will then try to turn your order around to meet your deadline. The personal touch can make all the difference with a small message which could say anything you like. Personalised engraving is especially presentable for occasions such as Birthdays, Christenings, Retirement, Corporate Gifts & Awards, and many more celebrations.
IMPORTANT: PLEASE CHOOSE YOUR FONT CAREFULLY BEFORE HAVING YOUR SELECTED GIFT ENGRAVED.
There is a small selection of fonts which will contain different character designs, and you may not like or approve of some of them. For example, in one of the fonts 'Victoria', the letter 'V' looks similar to a letter 'D' because of the italic serif design. Once an item has been engraved we cannot refund or exchange it, because we will not be able to resell an engraved item.