The 849 ballpoint pen by Caran d'Ache is one of their best sellers. It's sleek, sophisticated, easy to write with and most importantly, it's stylish. Caran d'Ache is known for its innovative collaborations with brands such as Paul Smith and Alexandar Girard.
For 3 years running Caran d'Ache and Nespresso have teamed up to create the now-iconic 849 Nespresso ballpoint pen.
The 1st edition 849 ballpoint pen was crafted using the 'Dharkan' capsule. The 2nd edition 849 ballpoint pen was created using the 'India' capsule. The 3rd edition ballpoint has been crafted from the 'Arpeggio' capsule, a Nespresso best-seller.
Pen Specifications
Hexagonal aluminium body, lightweight and durable.
The body created using the aluminium from recycled Nespresso capsules.
Engraved with the phrase 'Made with recycled Nespresso Capsules'.
Refills: Caran d'Ache Goliath ink cartridge.
Packaging: Environmentally-friendly packaging made from 100% recycled and recyclable cardboard, innovative internal design to avoid the use of glue and a capsule-shaped cut-out presenting the 849.
Dimensions: 15.3 x 6.2 x 2 cm.
Weight: 0.060 kg.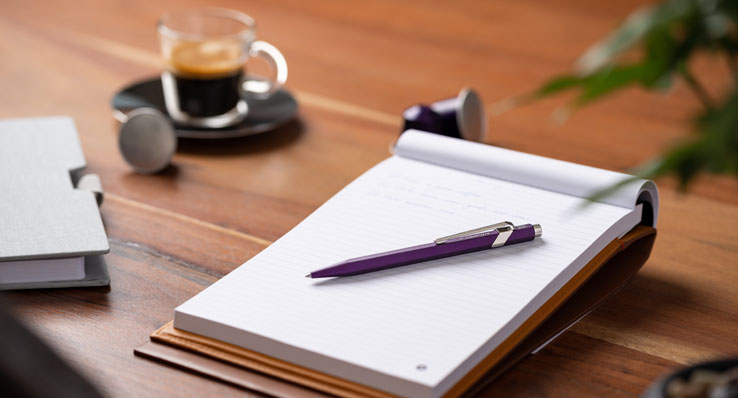 The 849 ballpoint pen can be engraved with up to 20 characters of your choice. We offer gift wrapping on all Caran d'Ache writing instruments.