It's the age-old situation we all know someone who refuses to get themselves a new wallet or card holder because 'it still works.' We're here to tell you it's now time to treat someone to a new wallet/card holder.
The festive season can be a little spenny, so having a budget or finding the best deals around always makes it easier. We've curated a list of our top 10 affordable wallets/card holders that don't go over budget and look luxurious.
Take a look at the curated list of our top 10 affordable wallets & card holders.
Wallets
Paul Smith Show Collage 8CC Khaki Wallet - £80
Paul Smith and its quirky designs. This luxurious khaki wallet is perfect for those of you who would rather carry cards and notes. Crafted out of calf leather, this khaki wallet features a fun black print all over the exterior.
BOSS Crosstown Soft Grain Light Brown 4CC Billfold Wallet - £119
Hugo Boss' Crosstown collection oozes sophistication whilst maintaining a fair price point. This brown 4CC wallet is perfect for daily use, 4 card slots, 1 coin pouch, 2 banknote compartments and 2 additional slip pockets, what more could you ask for?
BOSS 8CC Black Signature Wallet - £139
The Signature collection is luxuriously perfect. This black 8CC Hugo Boss wallet is perfect for all occasions, it pairs wonderfully with any outfit.
BOSS Black Matte Stripe Leather Wallet & Card Holder Gift Set - £149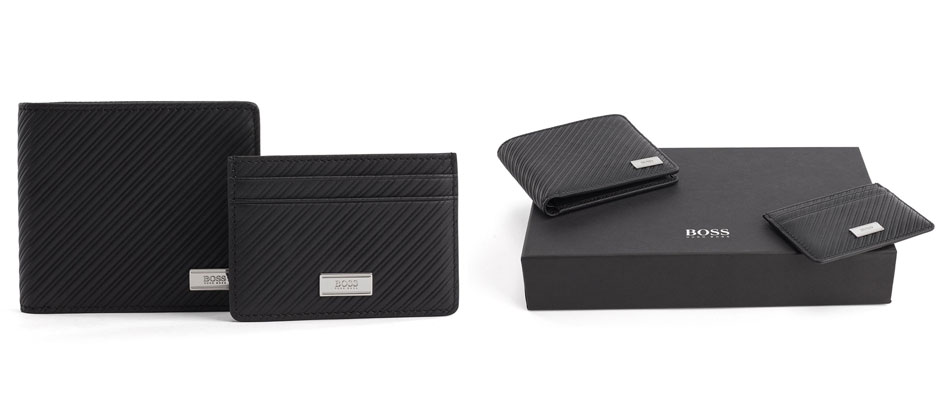 This striking wallet and matching card holder set makes the perfect gift. It's always handy to be able to switch between a wallet and card holder, what better way to do that than with a matching pair?
Paul Smith 8CC Grosgrain Signature Stripe Interior Black Wallet - £150
Paul Smith's Signature Stripe is instantly recognisable. This smooth premium leather wallet will be a perfect addition to anyone's leather collection.
Card Holders
Matt & Nat Vintage Collection Chili Matte Nickel MAX Card Holder - £20
Opt for a sustainable, eco-conscious option with Matt & Nat. The Vintage MAX card holder is the perfect alternative to a chunky wallet. The soft vegan leather has been dyed with 'Chili Matte Nickel'.
TUMI Alpha Black Slim Card Case - £65
Created from a combination of ballistic nylon and smooth leather, this black slim card case features 3 external card pockets and an ID window, along with a top hidden pocket that can be used for cards, receipts or banknotes.
TUMI Alpha Black Gusseted Card Case - £85
This gusseted card case made from ballistic nylon is stylishly durable and would make the perfect accessory to carry your cards around in.
BOSS Crosstown Soft Grain Black Card Holder with Built-In Money Clip - £89
This small black card holder has been designed by Hugo Boss for their Crosstown collection. Crafted from soft grain cow skin, this black Crosstown card holder features 2 external card slots and a built-in money clip.
Montblanc Black 2CC Sartorial Card Holder with Magnetic System - £100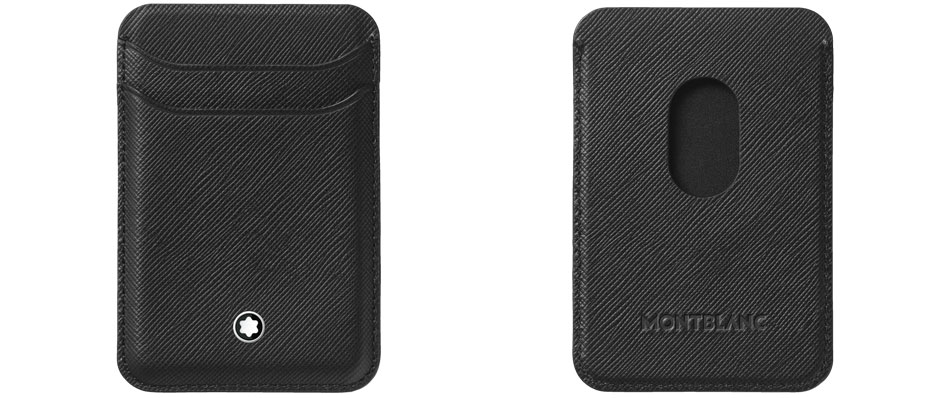 Featuring 2 card slots, this Sartorial card holder features a built-in magnet system to effortlessly snap into place on the back of your iPhone with MagSafe technology.
Additional personalisation and gift wrapping services are available if you want your gift to be extra special.